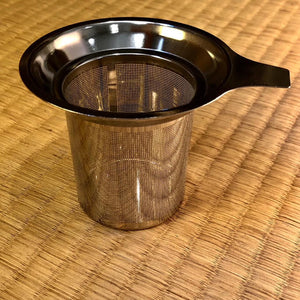 Deep, stainless steel tea strainer fits the diameter and depth of standard 8-12oz mugs. It's large capacity allows loose teas room to fully expand and "breathe" their medicines and flavors into the hot water.
To use:
1. Load infuser with 1-2tsp loose tea.
2. Set loaded infuser into drinking cup.
3. Pour in the hot water.
4. Let steep as long as directed.
(You will see the loose tea matter caught by the infuser;
either save the leaves for another infusion or discard plant matter in compost)